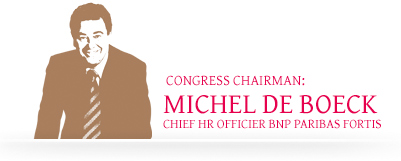 The three major challenges for HR Leaders after the crisis will be to maintain and develop employee engagement, meet the new generation's expectations and build trust with stakeholders (unions, community, etc.).
Consultant studies estimate that only 14% to 30% of employees are e ngaged at work. And the crisis had disastrous effects! One key question: what is employee engagement? Typically in literature, engagement is intended to describe the degree to which an employee is so committed to an organisation that he or she will invest extra effort in the work. When seeking employee engagement we seek for an employee to be both rationally and emotionally engaged with the company's purpose. It is a matter of behaviour, not of attitudes. It is also a metter of energy, of being passionate. It's a matter of connection… One of the objectives of the congress will be to answer this other one: how to go about getting it?
For the first time history, four distinctly different generations will soon work side by side. Each of these four generations (Matures, Baby Boomers, Generation X and Generation Y) is guided by a different set of values, beliefs, and expectations. This will open new challenges as far as people engagement is concerned.
Gaining engagement internally is also directly linked to build trust externally. Companies that build strong relationships with their stakeholders will be at an advantage.